今日は、前回と同様、お家でやっているトレーニングを紹介したいと思います。
Today, I'm going to show you about my training at home during this tough time with coronavirus.
前回はコアを鍛えるトレーニングでしたので、今回は上半身のトレーニングです。
What I'm going to show you today is training for the upper body as I showed one to build the core strength last time.
僕は逆立ちをして、腕立て伏せをしています。10回を2セットやってます。
I do push-ups on a handstand. I do 2 sets of 10 times.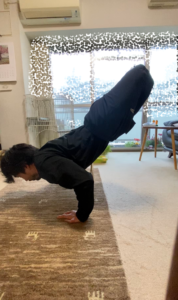 実はこの角度が大事なんです。インクラインベンチプレスと同じ効果を期待しています。
The angle of the body is important to earn the same effect as the incline bench press.
もし良かったら、皆さんもチャレンジしてみて下さい!
You can try if you fancy doing😁👍.
それではまた!
Sayonara!