新年、明けましておめでとうございます。
昨年は復調の年になりました。
Happy New Year!
Recovery in swimming was appeared last year.
A little throw back to 2018.
パンパシパラ選手権では、50m平泳ぎで49.07が出せました。
I got 49.07 in the 50m Breaststroke at the Pan Pacific Para-Swimming Championships.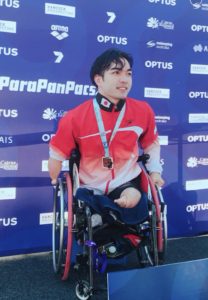 10月に行われた、アジアパラ競技大会では、50m自由形でベスト、50m平泳ぎで10年ぶりに48秒台、そして5冠を達成しました。
At the Asian Para Games, I got a PB in the 50m Freestyle, under 49 seconds in the 50m Breaststroke for the first time in 10 years, and 5 gold medals along with 5 games records.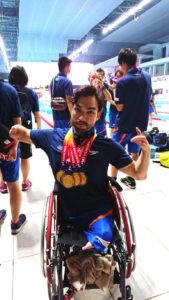 今年の目標は、、、
英語の上達 (アドヴァンスレベルになる)。
英語の本を3冊は読むこと。
世界選手権で金メダルを取ること。
今年も自己ベストを出すこと。
素敵な人と出会うこと。(里親の希望)
New Year's resolutions  are …
To improve my English level (become an advanced level),
To read at least 3 English books,
To win the gold medal at the world championships,
To get a PB(s) in swimming,
And to meet a gorgeous lady (my foster mum's suggestion lol!).
皆さまにとっても幸多き一年になりますように。
Hope you all have a wonderful year ahead!
2019年1月1日     鈴木孝幸
1st of January 2019.  Taka Suzuki