昨日は、競泳ワールドカップの東京大会の決勝を観戦しに行きました。
I went watching the Swimming World Cup Tokyo Round yesterday!
テレビで観ているオリンピックスイマー達の泳ぎが見られて有意義な時間でした。
The performance of Olympic swimmers who I have watched on TV was the inspiration for me!
会場ではSpeedoのショップがあって、Team Speedo の選手達のサイン会もあったんですょ!
There is a Speedo shop at the aquatic centre and autograph sessions are also taken place with team speedo swimmers.
欲しかったぁ笑。
I should have been there then to get an autograph!😂
最後にバナーの前で写真を撮り、
I took a photo with a banner and…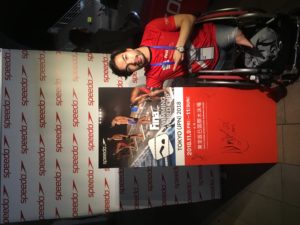 ちゃっかり僕もサインしました笑!
I drew my autograph on it as a team speedo swimmer✌🏼.
大会は今日までです。行ける方は是非!
Today is the last day of the game! Don't miss it!
それではまた!
Sayonara!