先週末に、実に1年以上ぶりに大会に出場しました。
I raced for the first time in more than a year at the weekend.
コロナウイルス感染予防対策として、無観客で行われ、コーチも帯同出来ない大会でした。
The competition took place behind closed doors, and even coaches were not allowed to get into the venue.
まぁ僕のコーチはイギリスにいるんで、どちらにしても来られないんですけどね笑。
Well, my coach is in the UK, so it did not matter to me😂.
他にも、出場2週間前から体調をチェックしたり、会場内では泳ぐ時以外はマスク着用、召集所も室内ではなくプールサイドにあり密を避ける工夫がありました。
Besides that, all athletes had to check their temperature in the past two weeks before the competition, they wore masks at the poolside, and the call room was at the poolside rather than inside a room to prevent infection.
僕は、50m 自由形、100m自由形、50m平泳ぎの3種目に出場しました。
I swam in the 50m Freestyle, the 100m Freestyle, and the 50m Breaststroke.
結果は、、、
こちらです。
The results are as follows.
50m Freestyle 38.26 🥇
100m Freestyle 1:22.70 🥇GR
50m Breaststroke 50. 16🥇GR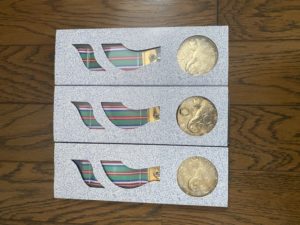 久しぶりの大会で、国内大会の割には緊張しました笑。
I was a bit nervous because I hadn't raced for a while. Haha.
タイムは、もうちょっと速いタイムを出したかったんですけど、久しぶりの大会だったのでまぁまぁでしょう。
I expected to swim faster than actual times, but they were not bad.
一応、2種目で大会新記録が出せました。そして3種目とも5月の選考会の派遣標準タイムよりも速く泳げました。
I broke the game records for two events and swam faster than the qualifying times for Tokyo Paralympic Games (the trials for them are in May and therefore I'm not yet qualified).
やっぱり、レース感覚ってあるんですね。
I thought there was no difference in my feelings at the competition even if I hadn't raced for a while, but actually was.
なんか久しぶりで、ふわっとしてましたね。
なんか不思議な感じでした。
It's hard to explain it, but I was just a little bit distracted. It's weird.
それではまた!
Sayonara!
P.S. My cat likes my mattress 😂.