ワールドシリーズ、グラスゴー大会が無事に終わりました。メダル5個(金3、銀2)に加え、100m自由形では世界記録も更新することができました。
It's been a blast in Glasgow! All the races were finished yesterday and I have won 5 medals (3 golds and 2 silvers) and broken the World Record in the 100m Freestyle (S4)!
大会結果です。
The results are as follows.
100m Freestyle (S4): 1.21.73 🥈 WR
150m Individual Medley (SM4): 2.47.26 🥇
200m Freestyle (S4): 3.00.52 🥈
50m Breaststroke (SB3): 50.14 🥇
50m Freestyle (S4): 38.09 🥇
もしかしたら、何で世界記録を更新したのに銀メダルなんだろうと思った方がいるかもしれません。ワールドシリーズではポイントシステムを使い、全てのクラスの選手とメダルを争います。そして100m自由形では、世界記録を出した私よりも高いポイントをとった選手がいたので(その選手もそのクラスの世界記録でした)、銀メダルとなった訳です。
Some of you might wonder why I got a silver medal in the 100m freestyle even though breaking the world record. The World Series is the competition racing against all swimmers in all categories through the multi-disability point system. A guy in the different category got a higher point than mine and therefore I won the silver medal.
今回の大会で考えていた事は、タフな大会スケジュールの中でいいタイムが出せるか、でした。結果的にはメダルを5個取れましたが、途中栄養不足を感じることがあったので、タフなスケジュールでも乗り切れるように栄養面を考えていきたいと思います。
A target of this competition was to survive 5 events for 4 days🏊‍♂️💦. Although I got great results in some events, I thought I would need to improve nutrition during the competition to keep in a good condition.
今回の大会中にも多くの応援コメント、世界記録やメダル獲得に対してのお祝いコメントを多く頂きました。ありがとうございました。
I would like to thank all of you who support and/or give me some comments when I broke the world record and won the medals.
写真をいくつか。
Some photos.
At the medal ceremony of the 50m Ferestyle.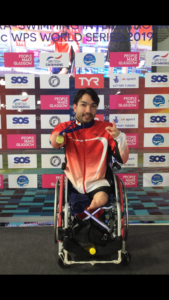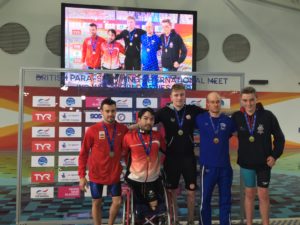 I had interviews.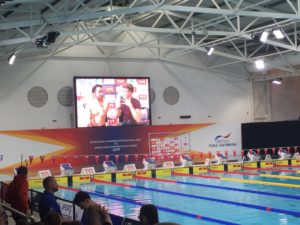 With my teammate, Nakajima (we call him Nakaji).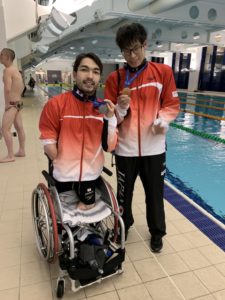 それではまた。
Sayonara.