久しぶりの投稿になってしまってすいません。
I'm sorry that I haven't written for ages!
しかも、久しぶりの投稿なのに告知です笑。
8/30と9/6 の18:55~ 日テレのPOWERフレーズという番組に出演します。
And the first post in a while is about I will be on a Japanese tv programme called "the power phrase"! It shows at 6:55 pm on the 30th of August and the 6th of September in Japan time.
5分ほどの番組で、2回に分けて放送されます。
The programme lasts for 5 minutes, and I will be on both days.
番組のリンクを貼っておきます。
もし良かったら見てみてください!
The link to the programme is as follows.
Check it out!
狩野舞子さんがナレーションしてくれてますよ。嬉しみが深みー。
The Olympic medalist in volleyball, Maiko Kano narrates for it.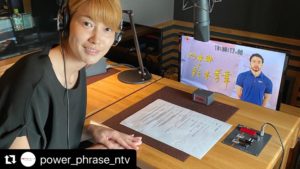 それではまた!
Sayonara!