今日からプールでのトレーニングを再開しました。
Today is the first day back to the pool!
多くの方の意識の変化や、フロントラインで働いてこられた方々のご努力、そしてプールで働く方々のおかげで、スイムトレーニングを再開する事が出来たのだと思います。ありがとうございます!
I attribute the change in people's attitude towards the coronavirus and the extremely hard works of the people who have worked on the frontline of the virus and also all of the staff at the swimming centre to the reopening. I would like to thank all of them.
水泳場では、利用者全員検温をし、スタッフの方はマスクをし、ライフガードの方も暑いプールサイドでもマスクをされてました。1時間に一回ある休憩時には手すりの消毒をするなど対策されてました。
In the swimming centre, all users need to check their temperature at the entrance.
The staff and even lifeguards at the poolside wear face masks, and they disinfect handrails of the pool once an hour.
泳いだ後はこの表情。
I was like that after swimming 😂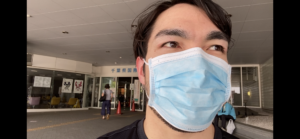 疲れたー😪。
Geet knackered.
今後もコロナウイルスに気を付けながら、トレーニングをしていきます。
I will swim with being careful with the coronavirus.
って事で、それではまた!
Sayonara!