大会1日目は、100m自由形(S4)と、150m個人メドレー(SM4)に出場しました。
I raced in 2 events which were 100m Freestyle(S4) and 150m Individual Medley(SM4) today.
そして100m自由形で銀メダル、150m個人メドレーでは金メダルを獲得しました!さらに、100m自由形では、世界新記録も樹立しました!!
I am delighted to have won the silver medal in 100m Freestyle and the gold medal in 150m Individual Medley! And I broke the world record in 100m Freestyle (S4)!! Woohoo🙌🙌!!
パライベントの世界記録更新は、北京パラの時に50m平泳ぎで出して以来です。
breaking the world record in Para-events is for the first time since I did in 50m Breaststroke at Beijing 2008 Paralympic Games!
明日は、一番タフな200m自由形ですが、頑張ります!
i had a great start of this competition and my next event is 200m freestyle (S4)😑🏊‍♂️ The longest distance in my events means the toughest race😏 but I'll try my best.
[photo]When I had an interview.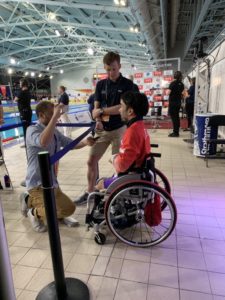 [photo]With Ayano.