今週末、シェフィールドで行われたイギリスの学生選手権(長水路)に出場してきました!
I raced at the BUCS Swimming Long Course Championships this weekend.
2020年最初のレースであり、東京パラリンピックの選考会前最後のレースでした。
This was the first competition in 2020 and the last competition before the trials for the Tokyo Paralympic Games.
結果は下記の通りです。
The results are as follows.
200m Freestyle  3.00.83  🥇
50m Freestyle  39.51  🥇
100m Freestyle  1.23.43  🥇
一応全種目で金メダルを獲得出来ましたが、タイムは、まだまだでした。。
I won first place in all events but the times I got were not very good.
50mに関しては、タッチ板がうまく作動しなかったと思ってます(レース後からずっと言ってます笑)。タッチした瞬間にタイムが出ず、僕がスクリーンを見てからタイムが現れたので、きっと僕のタッチに反応しなかったと思ってます。
In terms of the 50m Freestyle, I think the touch panel did not work because the time didn't appear when I touched and it did after I looked at the screen (I'm saying that after it happened lol!). So I believe the time must be quicker than that.
選考会まで3週間あるので、これから上げていけたら良いなぁと思います。
I still have 3 weeks until the trials so will get my body fit for them from now.
インスタに載せようとした写真もあげちゃう!
The photo is that I was about to put on Instagram.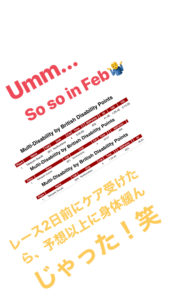 それではまた!
Sayonara!